Oleia Oil 50ml Buy2 Get1 Free: My Own Variants
Customer Reviews
03/20/2021
LILYBETH C.

Philippines
I find OLEA PRODUCT helpful
I hv purchased diff variant/scents of oleia, one night I hav not gotten sleep for some important stuff to finish, need to b up still so I wht I did when another night was coming I did tke a warm bath & tke advntage of d oleia ppermint for am hving allergic rhinitis too & for its invigorating effect, ( hving studied all these essential oils back then when I studied massage therapy). When am about to sleep I took advantage of OLEIA LAVEDER at night for its sedating/calming effects.When I went to bed, fall asleep straight, (went to bed 10pm, & woke up at 6am)So, at first use, I felt d satisfaction already.Am a nurse/midwife/therapist but am more into alternatives specially on chronic illnesses..I hav read a coment on NO BNFIT AS ADVERTISED, well, being an alternativ enthusiast, we dont mke magic on our health specially on chronic problems because real healing comes from inside going outward & it tkes time too, it tkes a process because whtevr sympptoms tht we mnfests like PAIN, it took us many yrs b4 it tkes place.Ther s no magic in therapeutic/ alternativ healings.It tke perseverance & courage to heal.I dont put aside medicines too for in acute cases, u really need medicines to counter your chief complaint, diagnosis or concern..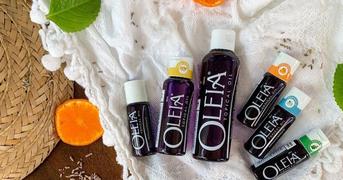 12/26/2020
Zulieta A.

Philippines
very nice....very effective
11/03/2020
MARISSA L.

Philippines
10/03/2020
Malou M.

Philippines
Used for back, head, neck pains, Oleia was so soothing and calming. For someone who has difficulty sleeping at night, having a head massage with Oleia gave me a good night sleep i never had for days. Thanks! Worth recommending!