Nutrilab
Oleia Topical Oil 50ml
Regular price
₱375.00
₱375.00
OLEIA Topical Oil helps remove symptoms of pain, redness and swelling, fast. OLEIA Oil deeply penetrates the skin and helps control inflammation. Oleia Oil's natural components allow easier skin penetration bringing anti-inflammatory fatty acids at the cellular level. The anti-inflammatory fatty acids serve as raw materials for the cells to effect natural healing, recovery and regeneration. Thus, swelling is controlled, pain is relieved and flexibility restored.
OLEIA Topical Oil contains natural ingredients like olive oil, moringa seed oil, pomegranate seed oil, cetylated fatty acids & other premium natural oils. It is recommended for the following conditions, which are all characterised by inflammation:
skin irritation, insect bites, rash
sprain and other sports injuries
asthma attacks
migraine/headache
menstrual cramps
tendonitis
dermatitis
back pain, muscle pain, joint pain
psoriasis/psoriatic arthritis
pain associated with stroke, cancer
Apply 5ml of Oleia Oil on painful, inflamed or irritated body part 3x to 5x a day and see how redness, swelling and itchiness go away in no time. For muscle pain, joint pain & body pains, users experience relief from 7 to 15 days. For severe & chronic pain, it may take more than 15 days for healing to take effect.
Variants:
Oleia Oil Lavender
Natural anti-inflammatory oil, enhanced with lavender essential oil, a soothing and relaxing oil which is known to help reduce mental stress and aid in treating insomnia. Lavender oil is widely used for various respiratory problems including throat infection, cough, cold, asthma, sinus congestion, bronchitis, whooping cough, laryngitis, and tonsillitis. It is used to treat various skin disorders such as acne, wrinkles, psoriasis and other inflammatory conditions.
Oleia Oil Chamomile
Natural anti-inflammatory oil, enhanced with chamomile essential oil. Mild and gentle, yet soothing and relaxing. Safe for babies' sensitive skin. Best for skin irritation, insect bites, tummy aches.
Oleia Oil Peppermint
Natural anti-inflammatory oil, enhanced with peppermint essential oil. Peppermint essential oil is a very effective natural painkiller and muscle relaxant. It is especially helpful in soothing aching back, sore muscles, and melting away tension headache. A study shows that peppermint oil applied topically has pain relief benefits associated with Fibromyalgia and Myofascial Pain Syndrome. Because of peppermint oil's cooling effects, it is an excellent natural treatment to bring down fever especially in children. Simply rub Oleia Oil Peppermint on child's neck and on the bottom of their feet to help stabilize fever.
Oleia Oil Frankincense
Natural anti-inflammatory oil, enhanced with frankincense essential oil. Frankincense oil can help reduce the appearance of dark spots caused from acne blemishes/stretch marks/surgery scars. It prevents wrinkles and even helps lift and tighten skin to naturally slow signs of aging. Apply Oleia Oil Frankincense anywhere where the skin becomes saggy, such as the abdomen, jowls or under the eyes. Frankincense oil has been shown to help fight cells of specific types of cancer. A 2012 study even found that a chemical compound found in frankincense called AKBA is successful at killing cancer cells that have become resistant to chemotherapy.
Oleia Oil Unscented
Natural anti-inflammatory oil without any scent. Recommended for babies with super sensitive skin and pregnant women.
Please contact Oleia Customer Service for your preferred scents.
---
More from this collection
Customer Reviews
09/08/2019
Carmel M.
Marikina City
Oleia Oil is a must-have for kids and moms, too!
"My son was diagnosed by a dermatologist to have scabies which started when he started to crawl. I applied generous amount of the expensive C** for 3 months, but the expensive product failed to lessen the lesions. My aunt advised me to apply Oleia Topical Oil. After 2 days of applying Oleia Oil, my son stopped scratching and the lesions dried up. In a week's time, his legs were completely healed with no scars. Since then, Oleia Oil has been our first aid kit all rolled into one – for bumps, insect bites, prickly heat, coughs and colds relief, pre- and post- bath body moisturizer, etc. Oleia Oil is a must-have for kids. And moms, too"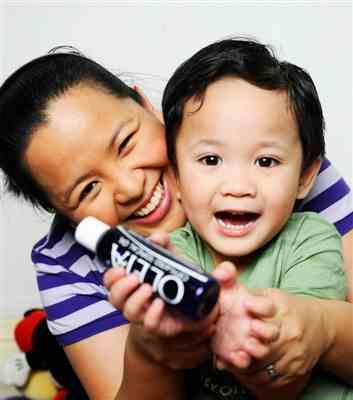 06/23/2019
Kei E.
Iloilo City
06/12/2019
Felicidad D.
Marikina
06/02/2019
Banjo B.
Manila
08/12/2018
Benneth D.
Binondo, Manila
For all types of pain, skin irritation
Ive been using Oleia Oil for 5yrs, para sa sakit ng ulo, o kahit anong kumikirot o sumasakit sa aking katawan gaya ng namagang sugat dahil sa pedicure, tooth ache, singaw sa gums, sa insect bites, tilamsik ng mantika sa balat, mga kati kati sa balat, sakit sakit ng katawan gaya ng frozen shoulder, balakang, mga binting pagod sa kakalakad, sa na infect na taghiyawat, mga tumutubong bukol lagyan kaagad...para sa akin ang dami nyang uses...take note: hindi ako seller ng Oleia...im just a satisfied user!