Nutrilab
Oleia Oil 100ml
Regular price
₱675.00
₱675.00
OLEIA Topical Oil is a blend of essential oils, olive oil, moringa oil, virgin coconut oil, pomegranate seed oil and nutmeg oil, synergistically formulated by a Biochemist to allow fast transdermal delivery of healthy nutrients to the blood vessels and tissues of the body, helping the affected cells to heal and regenerate properly.

Oleia Topical Oil is recommended help for the following conditions:
back pain, neck pain, knee pain
frozen shoulder
rashes, skin allergy, acne, scabies
bumps, bruise, insect bites
migraine, headache, stress
dysmenorrhea
tendonitis, sprain
dermatitis, eczema
hemorrhoids
psoriasis
pain associated with stroke, cancer
Apply 5ml of Oleia Oil on painful, inflamed or irritated body part 3x to 5x a day and see how redness, swelling and itchiness go away in no time. For muscle pain, joint pain & body pains, users experience relief from 7 to 15 days. For severe & chronic pain, it may take more than 15 days for healing to take effect.
OLEIA OIL is a blend of plant-based healthy oils that helps relieve body aches and skin allergy fairly fast. It is enhanced with essential oils for added benefits:
Lavender Oil helps reduce stress and aid in treating insomnia. Lavender Oil is widely used for acne, psoriasis as well as bug bites.
Peppermint Oil is an effective natural painkiller and muscle relaxant. Helps soothe aching back, sore muscles, relieve tension headache.
Frankincense Oil prevents wrinkles. Helps reduce the appearance of dark spots caused by acne blemishes/stretch marks/surgery scars. Frankincense Oil has been valued for its beneficial effect on the respiratory system and used to treat coughs, bronchitis and asthma.
Chamomile Oil. Best for children' skin irritation, insect bites, tummy aches.
Tangerine Oil helps reduce the appearance of scars, stretch marks & cracked skin. Owing to its antifungal and antibacterial properties, it is a great remedy for acne, skin impurities, dandruff & dry scalp.
Oleia Oil Unscented. No added essential oil. for babies with super sensitive skin. Use Oleia Oil Unscented as Carrier Oil when diluting other essential oils. 
---
More from this collection
Customer Reviews
A TRUSTED HELPER
I must confess. I had a small patch on my right arm that for about 40 years was calloused to all medications until I gave up . It itched at times and looked ugly but it was not much of a bother. COVID 19 time and saw the ad here. I got 3 big bottles because I observed that the previous bottle did well on my pains in my hands, arms and back so I purchased some more. Lately after 6 months and occasional rubbing on my arms, I just noticed that the stubborn itchy patch was gone. I can't even find its rough feel anymore. I waited for some time and now I can really swear it's healed. Thanks God and to Oleia.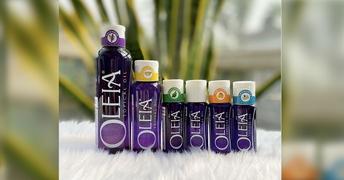 Amazing! Fast pain reliever the Peppermint.