Oleia Softgels 90caps at 10% discount with Oleia Oil 100ml Free
Customer Reviews
Oleia helped me relieve cancer pain
"I am a cancer survivor. I was diagnosed with breast cancer in 2017 and had to undergo surgery to remove 33 lumps in my left armpit. I went through chemotherapy and radiation for one and a half years. After each chemo session, I suffered severe body pains. The doctors gave me topical steroids for pain relief, but what helped me a lot to relieve body pains is my "magic" OLEIA Oil and OLEIA Softgels. Cancer patients undergoing chemotherapy could hardly sleep due to pains all over their body. But not me, I used Oleia Oil and took Oleia Softgels after chemotherapy to help relieve pain so I could sleep well at night! I first discovered Oleia Oil sometime in 2012 when I was searching the Internet for natural pain relief for pain in my arm. I contacted the Biochemist formulator of Oleia Oil and got some bottles to try. After a few days applying Oleia Oil on my painful arm, I was amazed and glad that the pain was gone! I can't believe it, at first, thinking it was only "psychological", so I went on to try Oleia Oil on the pain of my family and friends. One time at 2:00 early in the morning, my daughter knocked on our bedroom door, crying, hindi siya makatulog because of severe headache. Sabi ko, tumabi siya sa akin, hinilot ko ang ulo niya using Oleia Oil, yung nakatulog siya... I was talking to a friend of mine over the phone, she complained of severe pain in her arm, I asked her if she wants to try my "magic Oleia oil". She said Yes, anything to relieve my pain. So I sent her a bottle of Oleia Oil and after a few days, she called me saying that her arm pain was gone! One time, nakita ko yung friend ko sa Supermarket sa Vancouver. She had a terrible migraine/headache. I knew that she had history of migraine due to work-related stress and cold weather. I gave her a bottle of Oleia Oil to try. After several days, I called her to ask her about her migraine, sabi niya gumaling na ang migraine ko dahil sa "magic" Oil mo! Oleia Oil works! I always carry a bottle of Oleia Oil for pain emergency. When we go outing during summer, I always have Oleia Oil in my backpack, ready for any pain, for me and my friends!"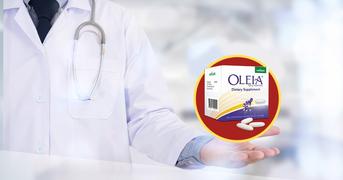 03/29/2018
Dr. Pantaleon Amadora
Oleia Softgels for hypertension
I prescribe Oleia Softgels to my patients who have hypertension, heart problem, arthritis and other types of pain, which are all linked to inflammation.